Upcoming / Contact / About
---
Current, Ongoing, & Upcoming
Book tour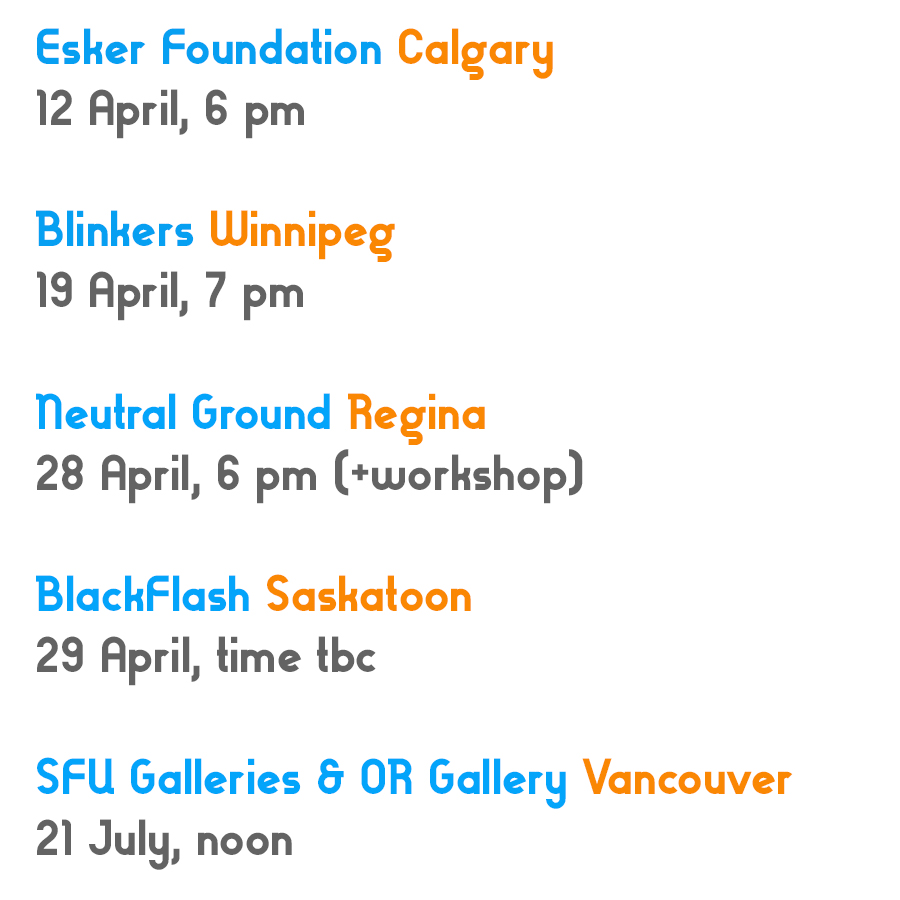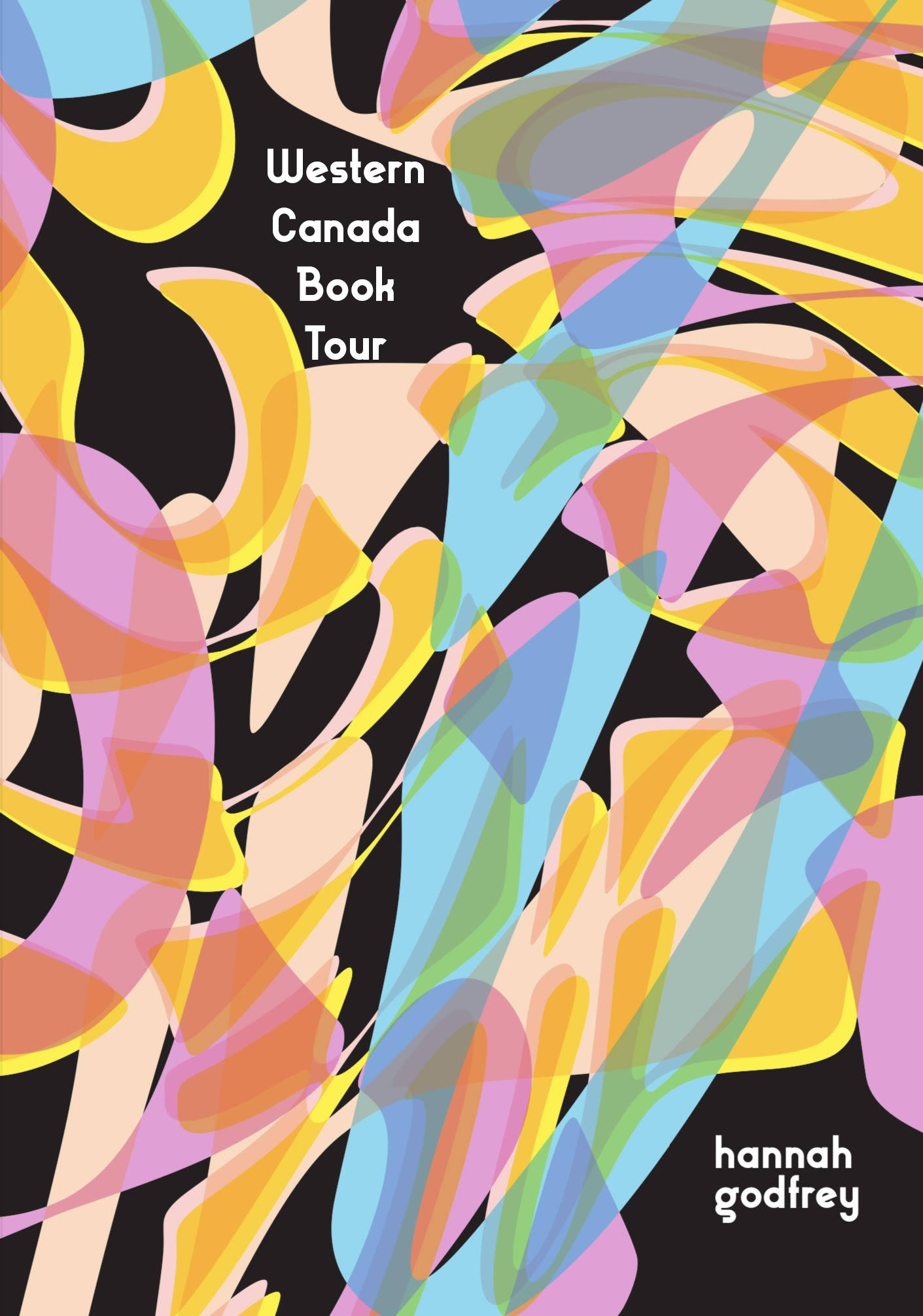 The Midnight Florists— a hybrid novel and collection of contemporary art essays. Generously funded by The Canada Council for the Arts. The Midnight Florists is a shadowy organization that once menaced and seduced on behalf of its clients. The plot is driven by artworks featuring plants, which are scattered around an elderly, queer woman's apartment in Winnipeg. Though the story is fictional, most of the art works are real. Artists include Larry Glawson, Ekene Maduka, Studio Morison, Grace Han, and Jonathan Green.
Oubliette, a book centred on the vicarious gardener, Ericca Godfrey—my mum. The experience of anticipatory grief is woven with scraps of conversations and memories that were shared over several years between us: two people who loved one another wonderfully and irreplaceably. To be published by Nevermore Press, autumn 2023.
The Lights of my City, a short reflection on home and friendship commissioned by the Winnipeg Arts Council.
*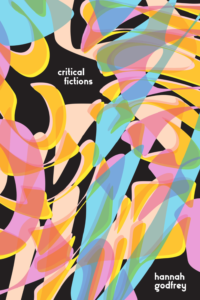 Critical Fictions, is a book of essays and interdisciplinary writing that explores how critical and creative responses to art impact one another, and how they function as ways of understanding, knowing, perceiving, and valuing. This project was funded by the Canada Council for the Arts and the Manitoba Arts Council and was being published by ARP in 2023. Extracts have been published by Blackflash and The Peripheral Review.
A weekly radio show called The MonkeySparrow with original stories and essays by myself and guests, and of course, jostling music. CKUW 95.9 fm Winnipeg. Every Tuesday, 10.30pm. Listen via mixcloud.
Not For The World Would I Compare It To Anything a series of stories and essays. Chapbook published by Parameter Press, 26 April 2018. Third  printing available here.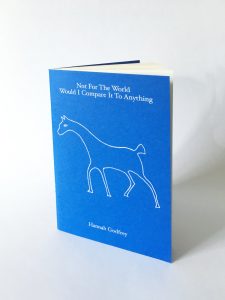 ---
Contact
---
About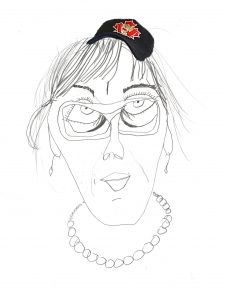 hannah_g is a writer, artist, community radio producer, and Co-Active coach. Her work is informed by queer echo-locating, contemporary art, and recollection. She is the Curator of Galerie Buhler Gallery in St. Boniface Hospital, Winnipeg, Treaty 1 Territory, Canada.
From 2008-2018 she was the Director of the Artist-Run Centre, aceartinc. and the editor of the gallery's in-house annual publication, PaperWait. Here she co-founded Flux Gallery, co-founded The Cartae Open School, and co-founded the gallery's first Indigenous Curatorial Residency.
Previous to moving to Canada, hannah was (among other things) a programmer and projectionist at the Cube Microplex, an event manager at St. George's concert venue, usher at Arnolfini and Watershed cinema, Assistant Learning Manager at the British Empire & Commonwealth Museum, Bristol, and crew for the Bristol Ferry Boat Company. hannah was born in the county of Essex in the U.K.
She is available to write, perform, run workshops, give studio visits,  mixtape DJ, etc.
Recent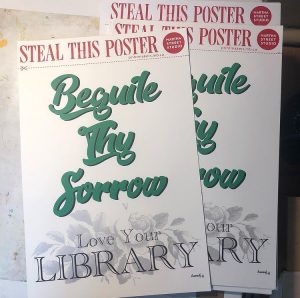 Designed a poster for Martha Street Studios. June 2021.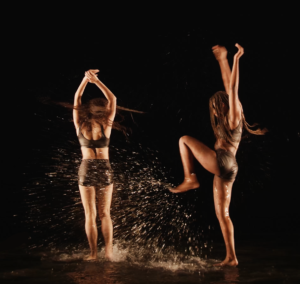 Waterline: A Dance with the Surface of Water. Screening at The Forks, Winnipeg for Nuit Blanche. 24, 25, 26 September 2021. Concept, Director, Producer: hannah_g.
"Running Like an Echo: Thoughts on Six Experimental Films from Winnipeg"- chapter for Prairie Artists' Cinema: A WNDX publication. Writing about Scott Fitzpatrick, Carole O'Brien, Heidi Phillips, Cecilia Araneda, Hagere Selam shimby Zegeye-Gebrehiwot, Jaimz Asmundson, and Leslie Supnet.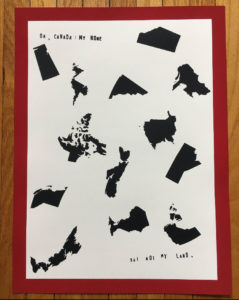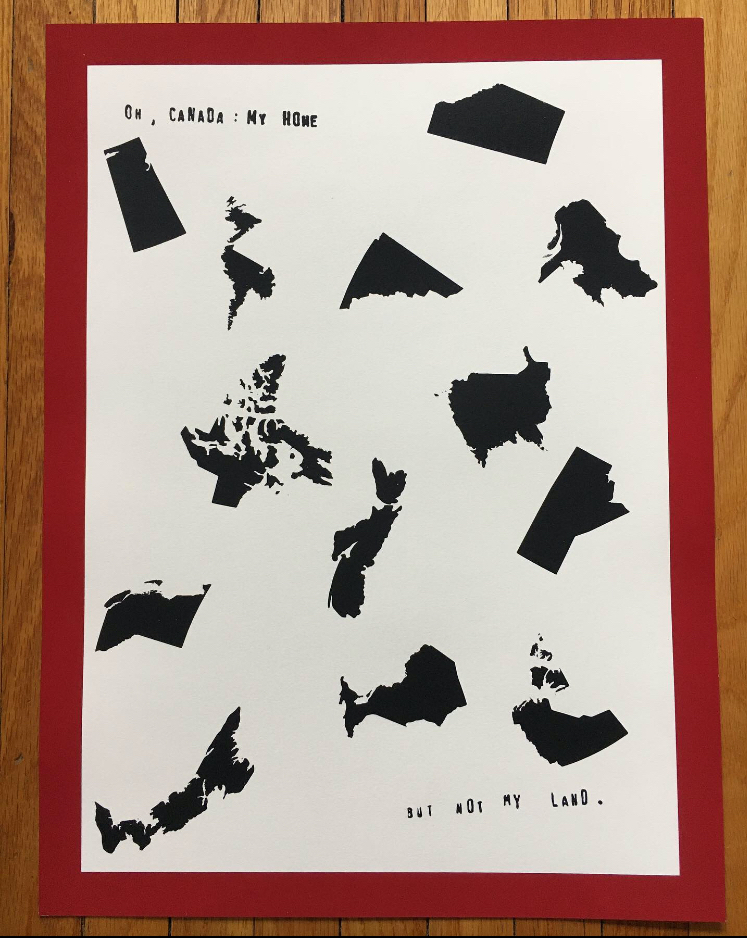 New print available: My Home But Not My Land. 15.5″ x 12″, screen print designed by me, screen printed by Suzie Smith. $50 +p&p Email for your copy.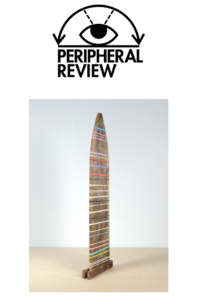 Peripheral Review have published an essay about Derek Dunlop's work that is part of my Critical Fictions project. Read it here.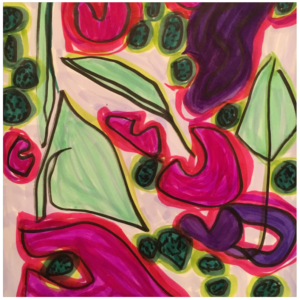 Collaboration with Canadian sound artist, Ken Gregory, on a series of soundscapes and readings, Plague Fantasies.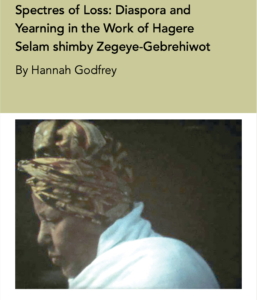 Blackflash magazine have published the essay about Hagere Selam shimby Zegeye-Gebrehiwot in their spring 2020 issue. Read it here.
Awarded a Canada Council for the Arts Digital Original grant to collaborate with Zoe Katsilerou on a story-music project, The Louloudi Birds. 2020.
Awarded a Winnipeg Arts Council grant to write a novella about Georgie Popjoy, a queer septuagenarian woman who's had quite the life. 2020.
Awarded a Manitoba Arts Council Connecting at a Distance grant to collaborate on an EP with Ken Gregory. 2020.
Produced the first Writers Reading series with Mariana Mūnoz Gomez, Nic Wilson, and Jean Borbridge. 9 November 2019, Garry Street Coffee.
Artist residency at 539 Osborne, 2-5 July 2019. With love and thanks to Spruced Hair Design and Tony Chestnut.
Winnipeg Underground Film Festival (WUFF ) selected my video Sometimes It's Hard for their program. 31 May – 1 June 2019.
Gave a reading at the invitation of Ibid. Curatorial Collective, Regina, along with Elise Dawson, Jennifer Ilse Black, and julian_k. Saturday 23 March 2019.
Workshop leader for The Winnipeg International Storytelling Festival, April 2019.
The Residency Residency, Lunenburg, Nova Scotia. 17 – 24 February 2019.
Invited to contribute a text for The Apt Show, Lunenburg, Nova Scotia. 21 February 2019.
Studio visits and presentation at Spike Island, Bristol, UK, 8 February 2019.
Gave a reading from Not For The World Would I Compare It To Anything at The Thought Foundation, Birtley, UK on Saturday 26 January 2019, 3pm.
Gave a reading from Not For The World Would I Compare It To Anything along with Eugene Lim and Claire Donato at Wendy's Subway, NYC. 7 pm, Friday 14 December 2018.
Ran Contextualising Your Art workshop for MAWA, Winnipeg 22 November 2018.
Gave a reading as a support act for Jesse Matas' new album, Tamarock, launch Friday 9 November 2018, West End Cultural Centre, Winnipeg.
Guest speaker at NSCAD talking about The Cartae Open School, Flux Gallery, and aceartinc. to the MFA students, and then guest reader for Poetry As Social Action NSCAD class. Also gave a number of studio visits. 22-24 October 2018
Guest artist speaker, Grenfell Campus, Memorial University of Newfoundland, 30 October 2018.
Mentor for 2017/18 Foundation Mentorship Program MAWA (Mentoring Artists for Women's Art) working with Grace Han and Sue Hoang.
One of the composers for Kristin Nelson's project Sidney/Sydney. 25 August 2018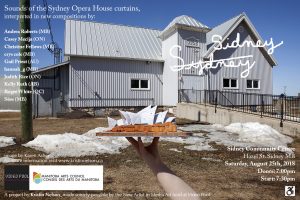 Art Holm performance, Tyranny Songs, Winnipeg, 11, 12, 13 May 2018
Book Retort Respondent for Also As Well Too library 5 April 2018.
HUB14 live-in residency recipient (Toronto), April 2018.
Panelist for Alternate Histories Symposium, University of Manitoba, 7 March 2018.
Writer in Residence for Young Lungs Dance Exchange  for the autumn 2017 Research Series.
Screened Sometimes It's Hard at Platform Gallery's Shorts members' screening, 22 Nov 2017
Published in Contemporary Verse 2, the Convergence issue, 2017
Anecdotalist-in-Residence, Flotilla Artist Run Centre Biennial Gathering, Charlottetown, Prince Edward Island. Sept 2017
Workshop participant: Museum Queeries: Intersectional Interventions into Museum Cultures and Practice, June 2017
Nominated for Investor's Group Making a Difference  Winnipeg Arts Councils Award, 2017
Nominated: MonkeySparrow radio show Best Spoken Word; Community Engagement; and Listener's Choice Best Spoken Word for CKUW. 2017
Awarded Winnipeg Art Council grant to write Not For The World Would I Compare It To Anything, experimental story and essays to be published by Parameter Press in Winter 2017/18
Choreography Across Disciplines thematic residency directed by Ame Henderson & Christopher House;  Banff Centre,  December 2016
Awarded Runner Up for Canadian Art art writing prize 2016
Short essay for Hive Mind, a group exhibition at  Martha Street Studio 6 April 2016
Winnipeg International Storytelling Festival 11 & 12 May 2016
Winner: CKUW 95.9fm, Best Spoken Word show 2016.
Syn-O-Nym Tallest Poppy Artist In Residence, 27&28 February 2016.
DJ MonkeySparrow for Waterfront Massage Therapy 5 year anniversary celebration, 29 January 2016.
DJ MonkeySparrow for Martha Street Studio fundraiser, December 2015.
Led the MAWA Theory & Beer session: Against Interpretation, November 2015.
Creating and recording stories for the archive in response to artefacts in the Tiverton Museum Collection. July 2015
Delivering the prologue to Estate: A Reverie for Winnipeg Architecture Film Festival. Saturday 18 April 2015, 7pm.
Leading a Jane's Walk on Sunday 3 May 2015: Contemporary Folklore Along the Assiniboine.
Telling stories at the Winnipeg International Storytelling Festival. Support act on 8 May 2015.