Upcoming / Contact / About
---
Upcoming & Ongoing
Publishing in Contemporary Verse 2, the Convergence issue, 2017
Anecdotalist-in-Residence, Flotilla Artist Run Centre Biennial Gathering, Charlottetown, Prince Edward Island. Sept 2017
Mentor for 2017/18 Foundation Mentorship Program MAWA (Mentoring Artists for Women's Art)
A weekly radio show called The MonkeySparrow with original stories and essays by myself and guests, and of course, jostling music. CKUW 95.9 fm. Every Tuesday, 10.30pm. Listen via mixcloud to avoid Judas Priest.
---
Contact
---
About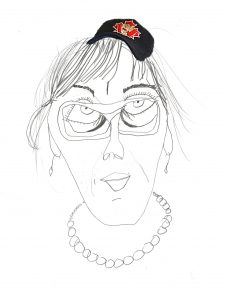 hannah_g is a writer, contemporary storyteller, inter-disciplinary artist, mixtape DJ, and designer. She is interested in  collectivity, place-making, and recollection.
She is also the Director of the Artist-Run Centre, aceartinc. and the editor of the gallery's in-house annual publication, PaperWait. Here she co-founded Flux Gallery, the Cartae Open School, and the gallery's first Indigenous Curatorial Residency.
She is available to write, perform, run workshops, mixtape DJ, and make things for you. hannah lives and works in Winnipeg, Manitoba, Treaty One Territory, Canada.
Recent

Workshop participant: Museum Queeries: Intersectional Interventions into Museum Cultures and Practice, June 2017
Nominated for Investor's Group Making a Difference  Winnipeg Arts Councils Award, 2017
Nominated: MonkeySparrow radio show Best Spoken Word; Community Engagement; and Listener's Choice Best Spoken Word for CKUW. 2017
Awarded Winnipeg Art Council grant to write Not For The World Would I Compare It To Anything, experimental story and essays to be published by Parameter Press in Winter 2017
Choreography Across Disciplines thematic residency directed by Ame Henderson & Christopher House;  Banff Centre,  December 2016
Awarded Runner Up for Canadian Art art writing prize 2016
Short essay for Hive Mind, a group exhibition at  Martha Street Studio 6 April 2016
Winnipeg International Storytelling Festival 11 & 12 May 2016
Syn-O-Nym Tallest Poppy Artist In Residence, 27&28 February 2016.
DJ MonkeySparrow for Waterfront Massage Therapy 5 year anniversary celebration, 29 January 2016.
DJ MonkeySparrow for Martha Street Studio fundraiser, December 2015.
Led the MAWA Theory & Beer session: Against Interpretation, November 2015.
Creating and recording stories for the archive in response to artefacts in the Tiverton Museum Collection. July 2015
Delivering the prologue to Estate: A Reverie for Winnipeg Architecture Film Festival. Saturday 18 April 2015, 7pm.
DJ MonkeySparrow and DJ StagPanther on CKUW, Sunday 19 April 2015, 8-10pm
DJ MonkeySparrow on CKUW,  with a guest set by DJ Mendoza Sunday 26 April 2015, 8-10pm
Leading a Jane's Walk on Sunday 3 May 2015: Contemporary Folklore Along the Assiniboine.
Telling stories at the Winnipeg International Storytelling Festival. Support act on 8 May 2015.